Jerry Wright's Family Photo Album
---
My father was Hollis Wright and his father was Lloyd "Pony" Wright. My mother was Dreadie London Lucille Crocker. Her father was Fount Crocker. They all were from the San Augustine area of East Texas. Lloyd's middle name was Napoleon but he was affectionately called "Uncle Pony" by most. He farmed and operated a small country store.
Dreadie's brothers and sisters were Herman, Alton, Burnon, Tommie Jean and Dobie. Fount Crocker was a rancher.
I was born in Beaumont, Texas and raised in Loeb, Texas on Cooks Lake Road. Loeb is in Hardin County. The area is now called Lumberton. Back in the 50's the little communities were Loeb, Lumberton, Fletcher and Chance.
Cooks Lake Road crossed Village Slough and ran along the Pine Island Bayou. There is also a road off of Cooks Lake Road which leads to the Lower Neches Valley Authority Canal. In my youth, I traveled and knew every foot of Village Slough, Pine Island Bayou, LNVA Canal and the part of Neches River from Cooks Lake to the Forest Lawn Cemetery.
The Loeb School only went to the 4th grade. The school was located next to the First Baptist Church in Loeb. The first grade was in a building with a single room. It was next to the big oak tree which is in the parking lot of the First Baptist Church. Mrs. Steward was the first grade teacher. Mrs. Boykin was the second grade teacher. By the time I got into the third grade, Mrs. Steward moved to the third grade. Then when I became a fourth grader, he and a few others were place in the second grade room with Mrs. Boykin. It was myself, Larry Don Taylor, Mary Streetman, Sharon Sutton and a couple other girls.
When I went into the 5th grade Chance and Loeb consolidated into one school district. Chance Loeb School went to the 9th grade. After the 9th grade all of the Chance Loeb kids were bused to Silsbee High School. I left Loeb in 1967 when he joined the Navy.
Margaret's father was L.A. Gardner. Margaret's mother was Louis Parkman. There were from South Carolina. Margaret grew up in Charleston on Fleming Road which is actually on James Island.
I met Margaret in Charleston while I was stationed there in the Navy from 1969 to 1971. We were married in 1975. Our two sons are Hollis Allan Wright and Lloyd Franklin Wright. Hollis was born in 1979 and Lloyd in 1982.
I joined the Houston Police Department in 1972. In 1982 Margaret, Hollis, Lloyd and I moved to Kennard, Texas. I went to work for the Crockett Police Department. In 1984 I went to work for the Houston County Sheriff's Office. In 1990 I was called to Active Duty for the United States Navy. I was released in 1991 and upon returning to Houston County went to work for the Houston County District Attorney's Office. In 1992 Margaret, Hollis, Lloyd and I moved back to Houston, Texas where I went back to work for the Houston Police Department. In in 1994 I transferred from patrol to the Homicide Division.
Margaret and I purchased a house in Bellaire, Texas in 1976. The house was located at 4328 Effie. In 1982 I resigned from the Houston Police Department and the family moved to Kennard, Texas. We built a log house on the heavily wooded twenty acres.
In 1992 the family moved back to the house on Effie Street and the log house in the country became a weekend place. In 2004 we sold the house on Effie and moved back to Kennard.
I retired from the U.S. Navy in 1992.
On a family vacation in 1994 we were passing through Missouri and Arkansas. Three separate strangers on three separate days in three separate locations told us that we should go to Mountain View, Arkansas and see Blanchard Springs Caverns. We were completely unaware of the Ozark Folk Center and McSpadden's Dulcimer Shoppe. Before we departed Mountain View we had purchased a mountain dulcimer for Margaret from Lynn McSpadden.
The love for the music has increased over the years. In 2000 Lloyd became the National Mountain Dulcimer Champion. The Wright family travels to many festivals. Margaret and Lloyd both hold workshops at many of the festivals. Margaret produces the much sought after Twelve Tune Song Book - tab (sheet music for the mountain dulcimer). The family as a whole or in part have recorded many CDs. The latest is "Crossing the Line" and was released on April 13th, 2005. Margaret plays mountain dulcimer and bass. Lloyd plays mountain dulcimer, guitar, mandolin, banjo and bass. Hollis plays mandolin, Autoharp and bass. I play the pickin stick. It is not a well known instrument. It is related to the mountain dulcimer.
We host the First Saturday mountain dulcimer class, jam and open mike at the Camp Street Cafe in Crockett, Texas. We also founded and produce the Palestine Old Time Music and Dulcimer Festival held each March in Palestine, Texas.
Each summer we travel to the Appalachian Mountains in North Carolina and collect more tunes. Many of which end up in the Twelve Tune Song Books.
In 2004, I retired from the Houston Police Department. Margaret quit her wonderful job at Parker Elementary in Houston where she taught general music, hand bells and mountain dulcimer. Hollis was a full time volunteer at Parker. In 2004 Hollis won the prestigious Sunshine Award from a local television station.
Margaret, Hollis and I moved back to Kennard, Texas.
We purchased Kennard Auto in downtown Kennard. The building was built in 1941. It needed much repair. I also build and maintain databases for the Crockett Police Department and the Houston County Sheriff's Office. So that is what I do these days. Margaret taught general music and choir in Kennard ISD and retired at the end of the 2008/2009 school year. Hollis is a full time volunteer there at the school. He is the assistant to the coach.
Lloyd and April Bruce married in 2008 and live in Kennard. They purchased some property from Mack and Dee Steed.
Lloyd Franklin Wright working on the log house in Kennard.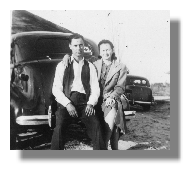 Hollis Wright and Dreadie (Crocker) Wright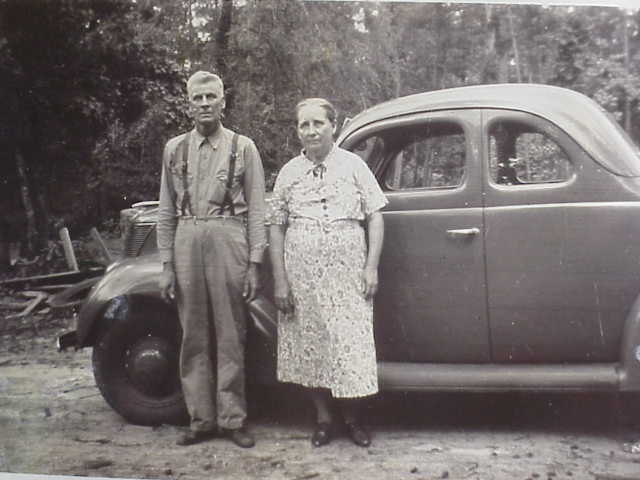 Lloyd "Pony" Wright
Pony had three wives. His first two wives died. His first wife was the mother of his children. His third wife was Altie.
His children were Paul, Bertha, Cecil, Hollis and Myrtle.
Jerry has a lot of double cousins. Jerry's dad, Hollis, often said he almost ended up being his own grandpaw.
Pony and two of his brothers married three sisters.
Hollis Wright's brother, Paul, married Lizzie Crocker. Lizzie was the first cousin of Dreadie, Jerry's mothers.
Hollis Wright's sister, Bertha, married Walter Crocker. Walter and Lizzie were brother and sister.
So Walter Crocker is Jerry Wright's uncle since he was married to Bertha, Jerry's aunt. Walter was also Jerry's first cousin once removed since he was Dreadie's first cousin.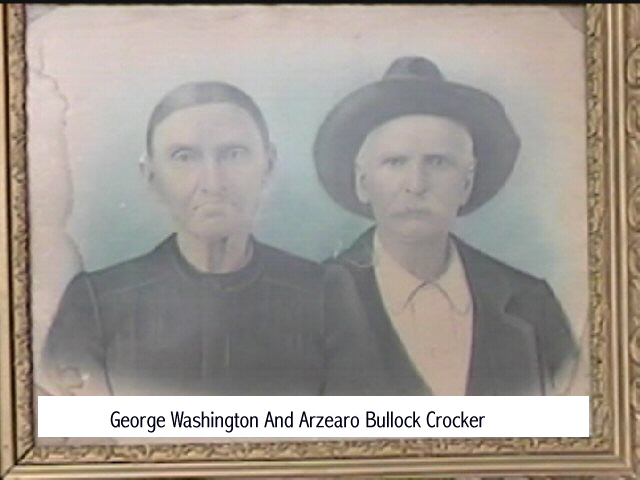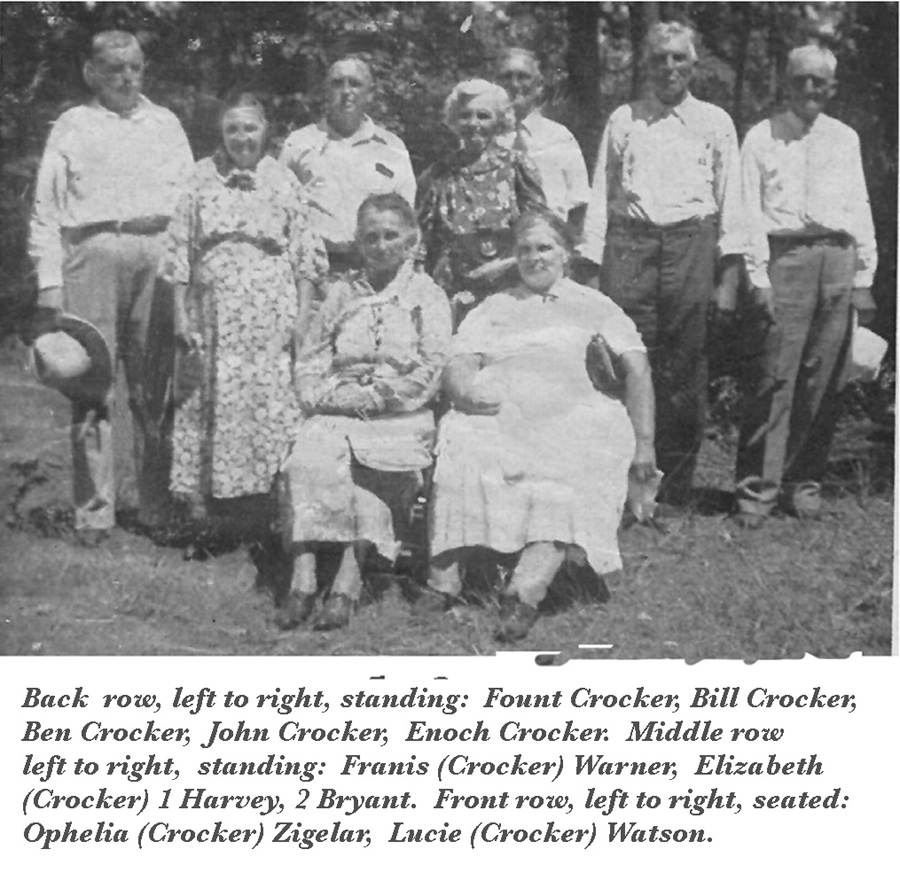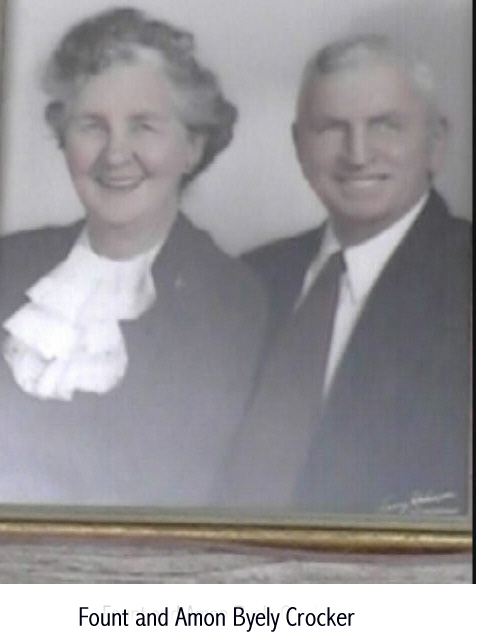 Jerry's grandmother and grandfather on mother's side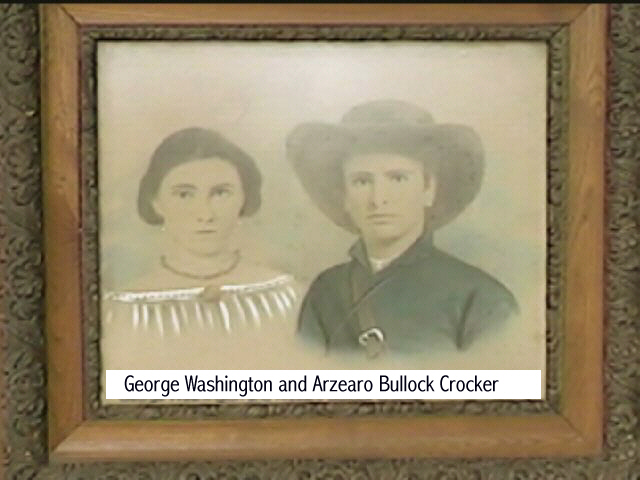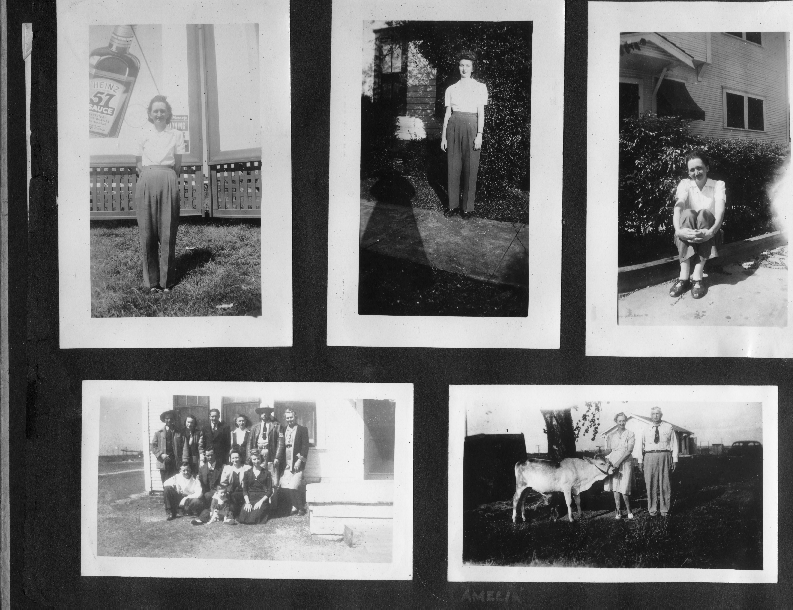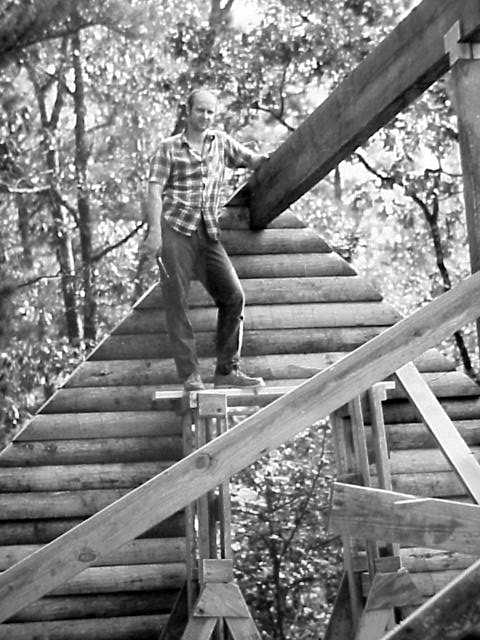 Jerry building log house in 1984


Margaret is from Charleston, South Carolina and Jerry is from Loeb, Texas.
Both are Southerners